In 1937 Melbourne witnessed a cortege of hand-made caravans heading out on their first-ever rally. The RACV Caravan Club, the first such club in Australia, had just formed. Its 100 members with their 32 caravans were heading for Barwon Heads for the weekend. Thousands turned out to see them.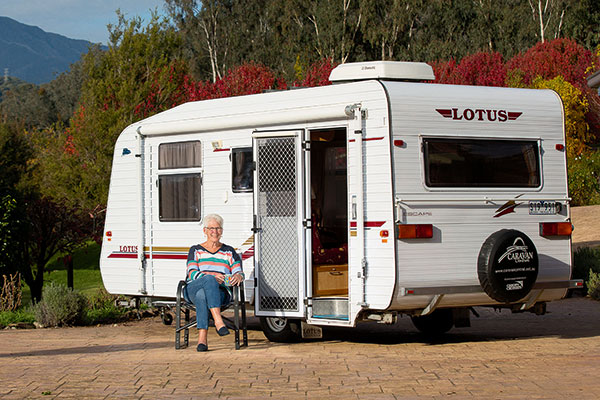 Sandra Eldridge, (pictured) its "official historian" says that in the early days RACV was keen to replicate the growth in caravanning then happening in the UK and US. "RACV was formed in 1903. By 1936 there had been an increasing number of articles extolling the virtues of caravanning and the wonders of camping beside the beach or beside nature for very little cost," she says. 'Motor gypsying' was portrayed as the cheapest way for a family to travel, and the idea became so popular that the RACV magazine published instructions on how to build a caravan.
People joined through word of mouth and by the 1970s it was the biggest caravan club in Australia. RACV Caravan Club began organising rallies. Members would leave home on a Friday, drive to a rally, set up in a caravan park and then the fun began – eating, socialising and playing games. It still happens that way.
"We do silly things… people dream up activities," Sandra says. "There are dance and movie nights, picnics, visits to local attractions, campfires, games for the kids, fishing and afternoon tea. The conviviality is quite unique. Our children loved it."
Only during World War II did the rallies stop, resuming in 1946. Slowly the membership grew, and suburban caravan parks in Frankston, Eltham, Sorrento, Yackandandah, Daylesford, Mildura and Tallangatta became club favourites.
People joined through word of mouth and by the 1970s RACV Caravan Club had 1200 members, the biggest caravan club in Australia. The club was divided into five divisions and each organised its own rallies.
Site & Contents © RACV Caravan Club. All Rights Reserved.